Adsense can't find ads.txt file
(error message ads.txt not found)
Register Your Domain With Google Adsense

When you enroll in Adsense one of the first things you need to do is register your website. On the left menu there is a "Sites" item and when you click on it you will come to the screen titled "Manage your sites".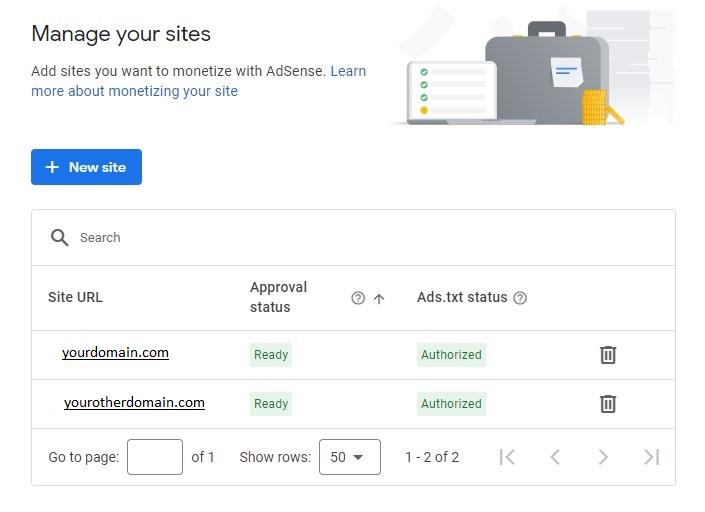 You will press on the "New Site" button enter your domain and now is where you wait for Google Adsense to do its thing. Hopefully within a week, a spider will crawl your site,and there is possibly some human review and your approval status column will change to "Ready". However, sometimes that second column labeled "Ads.txt status" still says "ads.txt not found". You want that status to show "Authorized". If you are certain that the file is there and you can bring it up in your browser by typing it into the browser address bar then you most likely have a robots.txt file problem.
Check that ads.txt is present and correct

First let's check that your ads.txt file is added to your site correctly. It's contents were supplied to you by Google Adsense and should be displayed as follows, with different identifiers of course (these are fake ids). Using all lower case for the filename is best, even though Google seems a bit inconsistent in its labeling on its website about whether it contains an upper or lower case "A". This file should be saved as text, uploaded to the root of your website and should be discoverable by typing, into the address bar on your browser, your domain name followed by a forward slash followed by "ads.txt". Adsense does not give you different ids for each one of your websites. It will be the same file contents for all of your websites.


Check that robots.txt is not blocking the Googlebot

Now here is the really tricky issue. Go to your website in the address bar and type your domain name followed by "robots.txt". Many ISP's will default this file for you if you don't have it present including SiteGround and Wix. SiteGround for example returns a virtual file and defaults the value of Crawl-delay to 10 seconds. That is too long for the Googlebot and often the reason that the Googlebot refuses to read ads.txt. It typically gives up after 5 seconds. If you find a high value like this then place your own robots.txt on your server and set it as shown below. An ISP where you don't have traditional html files, like Wix, will require you to change a configuration in their UI instead, if they make it available at all.


I hope this solves your ads.txt not found mystery. If this doesn't solve your problem maybe you can find the solution at the below links.
Adsense ads.txt help at headerbidding
Adsense ads.txt help on Google
Adsense ads.txt help on Google Video